Guitar Chord Progressions
Part 3 - Minor key & progression ideas
Minor key chord progressions
Up to now, we've only been looking at major key progressions, where the tonic chord (that's chord
I
in the chord scale) is a major chord. Now, chord
I
is based around its relative
1st mode - Ionian
which can also be called the
natural major scale
, because it's the major scale without any sharpened/flattened notes unlike the other major modes.
Therefore, to create a
minor key progression
we need the tonic chord to be... (well I'll be damned)
a minor chord
.
This, as you probably guessed throws the whole chord scale out of order. Well, not really, all we have to do is shift the scale so
Chord I becomes relative to the natural minor scale
. The natural minor scale is the same as
6th mode Aeolian
. Look at the regular
major key chord scale
below, and pick out the 6th chord...

OK, now this 6th minor chord is our new
tonic
and the chord cycle continues from there... to make life easier I'll draw up a new scale based around this
minor
tonic..

Remember, when we note a chord progression in this format, the lower case numerals indicate a minor chord, so if you see a lower case
i
, you know that means the tonic chord is minor and the progression will be based on that scale above. Now, if we just use the basic major/minor triads, that minor chord scale in the key of
B minor
(just for example),
could
be played as follows...
click tab to hear!

So, just like in last lesson with the major key chord scale, start and end with the tonic (B minor in this case), pick any of those chords from that scale above in any order, and you'll get a minor key progression. That's a very simple way to do it. You can also see how if we play that relative 6th mode, the natural minor (or Aeolian) scale, it fits over every chord in that scale...
Click to hear >
Let's now move on to look at how we can in fact alter some important chords in the scale and add chords to the scale to make progressions more interesting...
Altering chords in the scale for tension
As you probably guessed, the major and minor chord scales we've been using in the past 3 lessons are not the be-all and end-all of music, of course not. They are merely a base for western music (and have been for centuries). A lot of songs you'll hear will just use the chords straight from the scale, but we can do better than that (note to self: music is not a competition)!
Let's use the B minor chord scale from above in these examples. Say you wanted to create tension before you return to the Bm tonic. Well, from the scale above, you could use
F#m (F sharp minor)
, or
A major
- these two chords played before Bm act as tension chords. However, you could also play F#
major
in place of the minor version...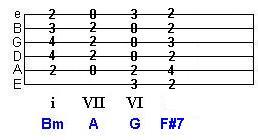 ...Has a very unique tension, and that's because a major
V chord
in a minor key progression gives it that flavour. This minor tonic, major V chord relationship comes straight out of the
harmonic minor scale
, and its 5th mode,
Phrygian dominant
. Here's another similar progression from the Bm chord scale using that
V major
tension chord...
This time we also used F#7sus4 before the F#7 major chord to add more harmonic tension. So it still fits, even though "the scale says" it should be F#
minor
in the V position! Trust your ears and experiment. Let's briefly go back to the
major key chord scale
for another example of how chords can be changed in the scale from major to minor.
So, if we were in the key of E major (
click here to see the E major chord scale!
), we could play around with a few of the chords to see what changing majors to minors/minors to majors would produce. Take a listen...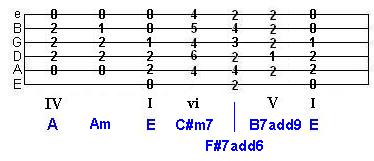 We started with the tension of IV (A major in this case), but we modified that to an
A minor
- this sounds great as tension before returning to the major tonic. The other modified chord was the
ii
chord (F#m) which became
major
The more you experiment and play around with the chord scale, the more your ear gets trained on which chords will sound right
before
you play them. Another example - changing the V chord (B major in this example) to minor...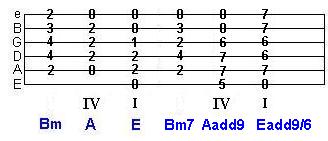 Obviously, when you change tones of chords (e.g. from major 3rd to minor 3rd tones), the scale(s) you can play over the progression change - this is where knowing when to hit the right notes comes in, and this is covered in depth the scales section of this site!
Gateway chords
Gateway chords are basically chords used in a progression that aren't even in the chord scale, but act as a logical "link" between chords that
are
in scale.
A good example of a commonly used "gateway chord" with the major key chord scale is a major chord half a step above the
ii
chord, and therefore half a step below the
iii
chord. Again, let's use the E major key as an example, so G major could be used as a gateway chord. Take a listen by clicking the tab below...

Of course, it doesn't HAVE to be used between the ii and iii chords in a progression, that was just an example. Again, experiment, mess around, create. I can't cover every possible combination I'm afraid!! Another common "gateway" chord is a major chord a whole step below the major tonic chord. I really like it used in the following clip because it makes the progression so alive and ecstatic.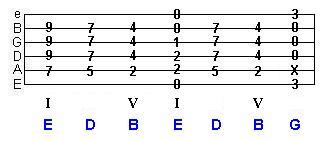 So the D major (or powerchord if like that you're turning up the gain!) acts as a gateway between the
tonic
E major and the
V
tension chord B major. You can also have a mix of the two we've been looking at - modified chords within the chord scale also act as gateway chords because they are like mini-tensions throughout the progression, before you even get back to the tonic. E.g. starting back on E major as the tonic, if the iii chord, which is a minor in the scale, is turned into a major chord, the III then becomes the tension before, say, the vi chord! So the point is, you don't always have to use tension for returning back to the tonic. The more you do
away
from the tonic, the more of a journey you take your listeners on.
Take a listen...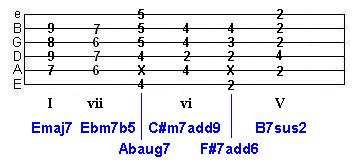 Bit of a jazzy clip there, and a good example of how tensions can be used through gateway chords away from the tonic. The minor iii chord from the scale has been major-ized (NOT a real word, I know) to provide tension before C#m7 (the vii chord). Also, the minor ii chord from the scale has been turned into a major with added tones for more tension. The final tension, or what I like to call the
pre-tonic tension
occurs with the B7sus2 - a
natural
tension of the major chord scale if you remember.
Have you been experimenting with your own ideas?
We're starting to use that chord scale to good effect now and getting more creative which can only be a good thing! The key is to use that chord scale (whether it's the major key scale or minor key scale) as a
foundation
and then when you write the song you can weave in those gateway chords, tension chords, modified chords, adding tones to chords and just have fun trying things out... but now there's a method to the madness : ) The way you use the actual chords in progressions is a different kettle of fish. You can learn how to construct chords from scratch, for any key
right here
.
Next lesson is the last for building chord progressions and we're going to be looking at the all-important
changing key
. Knowing how to change key
effectively
is important and rewarding to know. It'll be just what you need to push your own music a step further, opening up your "options" almost infinitely. Changing key can change the whole mood of a song in a split second and really wow your listener(s).